3D printing has become a significant alternative technology to established manufacturing methods. In addition to prototyping, it has become especially useful for rapid production of new components, spare parts and fixtures. 3D printers are not simply a desktop solution. They can be competitive in rapid prototyping, small series or volume production of complex components for most areas of industry.
Hewlett Packard, VoxelJet, Formlabs and UnionTech equipment represent the technological cutting edge for the production of plastic and metal parts using 3D printing. Industrial 3D printers offer complementary solutions for the production of plastic and metal parts with unlimited geometry and optimal mechanical properties.

HP Jet Fusion 3D printers
are a solution for rapid prototyping and serial production of fully functional plastic parts with excellent mechanical properties


Voxeljet 3D printers
offer the use of 3D printing for production of castings for metals, for design and architecture and the production of functional plastic parts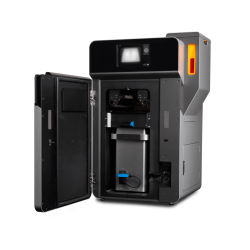 UnionTech 3D printers
enable fast and low-cost production of precise prototypes with a smooth surface finish. And offers the ability of producing fully transparent parts.
FIND THE RIGHT PRINTER ACCORDING TO USE AND BENEFITS
Don't have time to read the details about all 3D printers or are you looking for specific features? Take a look below for the main applications and uses of the 3D printers we offer.
I'm interested in
Mass production of plastic parts
Production of transparent parts
3D printing of molds for casting
Consistent accuracy in large series
I'm interested in
Rapid prototyping in plastic
Easy to use production printers
The widest range of materials
High temperature resistant plastic
Art and architectural elements
I'm interested in
The best prototyping of plastic parts
Accurate production planning
Replicas of historical artefacts
Individual setting of printing parameters
The best production of 3D printed functional parts
For 3D printers we offer
Materials for 3D printing
The choice of build material depends on the properties required for the final parts and their intended application.
There are a number of materials for each technology on offer. We can cover the vast majority of applications.
We will advise on the choice of materials.
Software
All printers we offer work with 3D models created by the most commonly used CAD tools. Each technologies uses specialised software for optimum parts production and monitoring.
We will advise the appropriate software.
Post-process solutions
Parts made by 3D printing often need post-production treatment.
For each technology, high-quality post-processing solutions are available for cleaning, hardening or painting.
We will advise on the most suitable solution for your needs!
Financing
Industrial 3D printers are full-fledged production and prototyping equipment.
We provide customers with cost calculations.
In addition, we offer the possibility of financing the lease or acquisition of the technology!